6 Fun And Easy Ways To Document Baby's Milestones
We ♥ honesty! This post may contain affiliate links, which means I receive a commission, at no additional cost to you, if you make a purchase using this link. Read my disclosure here. 
Check out these super fun and easy ways to document baby's milestones and keep a record of all the amazing things they acomplish during the first year.
Watching your baby grow is exciting and it's so much fun to observe them as they learn something new.
Baby's first smile, her first steps, and the first words are all cause for celebration.
But it's also heartbreaking to know that you can't hold on to those sweet moments forever. And every milestone is a reminder of how quickly these motherhood days pass.
If you're crafty, you can make a scrapbook to document all the memories of your baby's milestones. Or you can try one of these 6 easy and unique ways to preserve the memories of your baby forever.
6 Fun And Easy Ways To Document Baby's Milestones
1. Photograph Daily
Nowadays, when everyone (and their grandma) has a smartphone, it's easy to take photos whenever you want. So there's no excuse for not taking photos of your baby every single day! Snap some photos throughout the day of things you do together, or use props to make the photos more artistic and fun.
Don't forget to be in some of the photos too. Photos of the two of you together will be priceless when your baby is all grown up and you will look back on these photos with so much joy in the years to come.
Print these photos and put them in an album or use an app like Timehop that allow you to look back on your photos from the same date of previous years.
Related Reading
17 Fun and Creative Monthly Baby Photo Ideas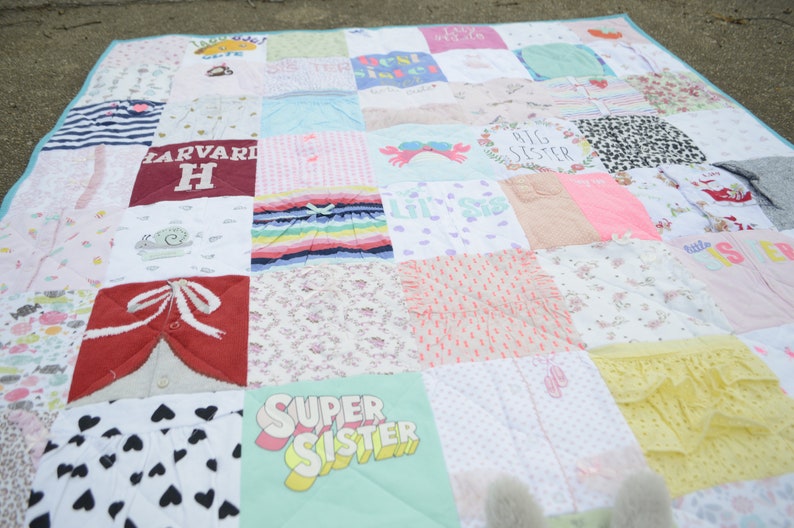 Image Credit: BittyBlanketBoutique
2. Make Home Décor
When your baby has grown out of her clothes, you can save your favorite baby outfits and make a lap quilt out of them.
You could use your favorite outfit of each month of your baby's first year, all the clothing that you received at your baby shower or why not all the adorable onesies that you and your husband bought when you were expecting.
If you don't know how to quilt or know of someone who can, you can find people on Etsy or at your local sewing store who will stitch the blanket for you (in exchange for money of course).
You can use the quilt to warm your child at night, or put away somewhere safe and gift it when they're expecting a child of their own.
3. Start a Blog
If you love to write, creating a personal blog for them could be a fun way to preserve the memories of your little one. You can write down what happened every day during your baby's first year, post cute videos, or funny things they said or did growing up.
It's also a great way to keep friends and family members who live far away updated on your baby's milestones. They can also leave comments and little messages that your child can read when she's older.
You can set up a blog for free on a platform like WordPress or Blogger and then, once a year, use an online service to make a book out of all your blog posts.
That way you'll have a backup of all your posts, plus, just think about how much you'll enjoy looking through your memories once more before you pass them on to your child.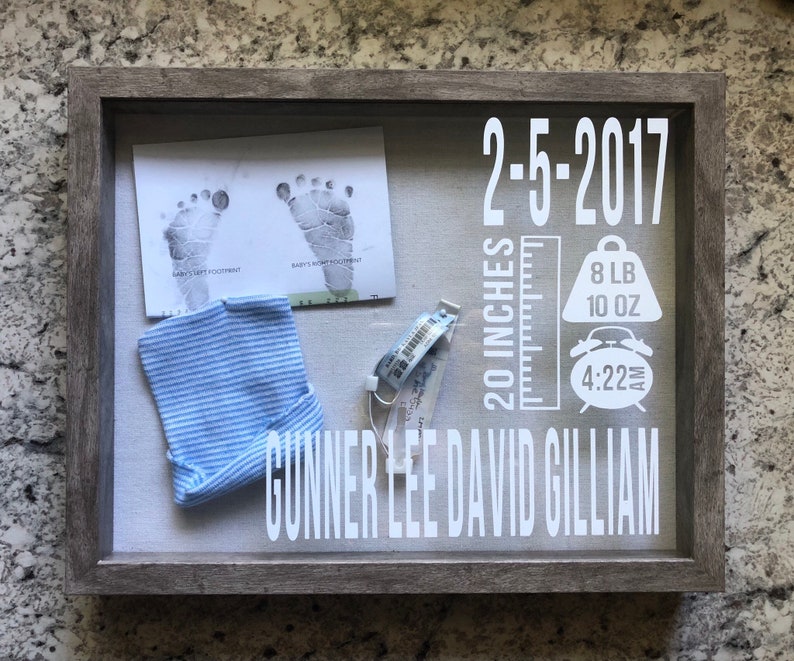 Image Credit: MakeYourMarkMama
4. Create a Shadowbox
A shadow box is both an easy and affordable way to display baby photos and other special mementos. You can choose to showcase almost anything in the box frame.
Baby's first rattle or favorite binkie, your baby shower invitation, the first onesie that your baby wore, or anything else that you simply can't get rid of.
Use the baby congratulation cards and make a collage for the back of the box or use swatches of wallpaper for the background. You can hang the box anywhere in your home and every time you look at it, you'll remember your child as a baby.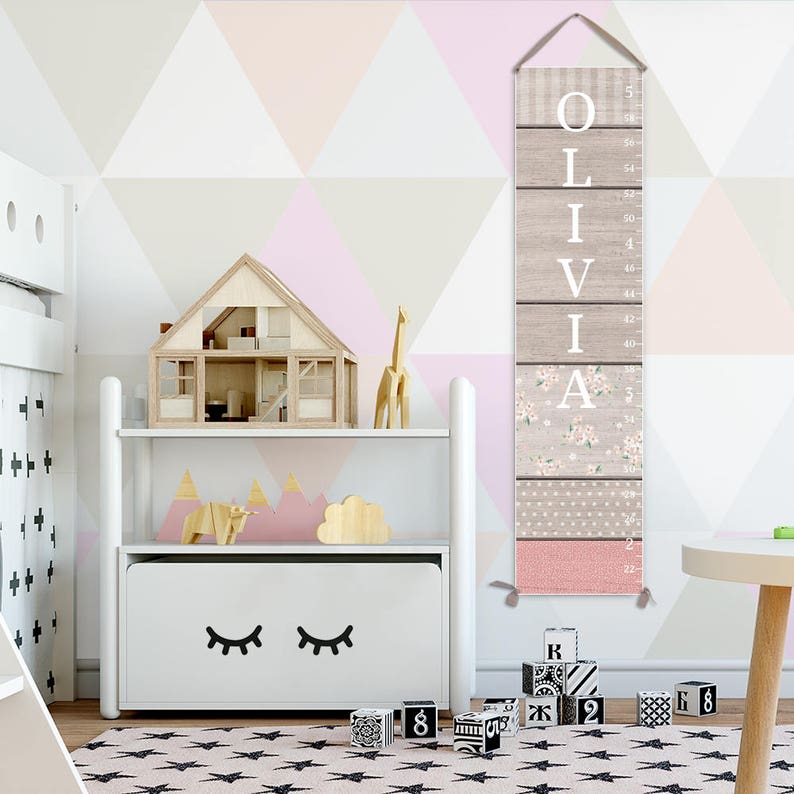 Image Credit: JoliesPrints
5. Growth Chart
Hang a growth chart somewhere in your home and mark your child's hight every year, every 6th month or even once a month. Write your child's initials and date next to the marks as reminders.
This is a visual and fun way to see how much your child has grown since the last time you marked their height. A growth chart also makes it easy for you to compare the height of all your children when they were the same age.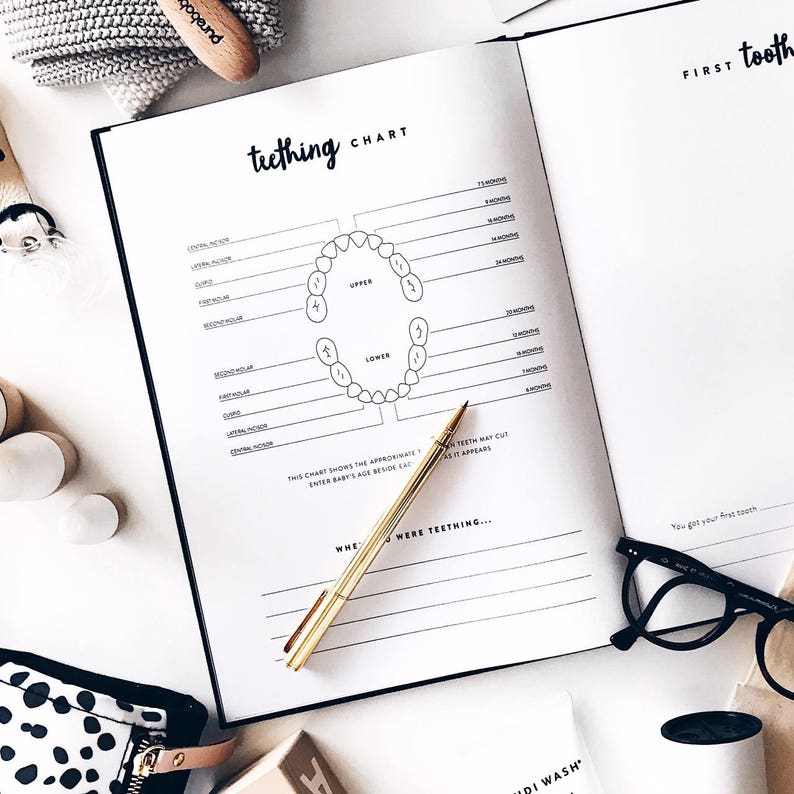 Image Credit: MyLittleMilestones
6. Baby Memory Book
Record all your baby's firsts with a Baby Memory Book. The book is a perfect way to document every little thing about your baby. You can record the excitement you felt during your pregnancy and the sweet memories from your baby shower, and every milestone your baby reaches from birth and til they're a couple of years old.
Keep track of your baby's height and weight, the date of the first smile, the first words and how you spent the first holidays. These books cover it all!
The design of baby memory books is often really cute and the blank text boxes make it easy for you to just fill in the information about your child.
WANT TO REMEMBER THIS?
Your baby will grow up so fast and it won't be long before you ask yourself where the time went. Wheater you choose to document your baby's milestones by making a quilt out of old clothes, create a shadowbox out of old keepsakes or just photograph your baby every chance you get, the important thing is that you keep the memories somewhere else than just your head. You won't believe how quickly a parent forgets.